The Maker's Yearbook
A 2017 Planner and Goal Setting Workbook for Artists, Crafters & Designer-Makers
Find out more on our sister site The Maker's Business Toolkit
Click here to find out more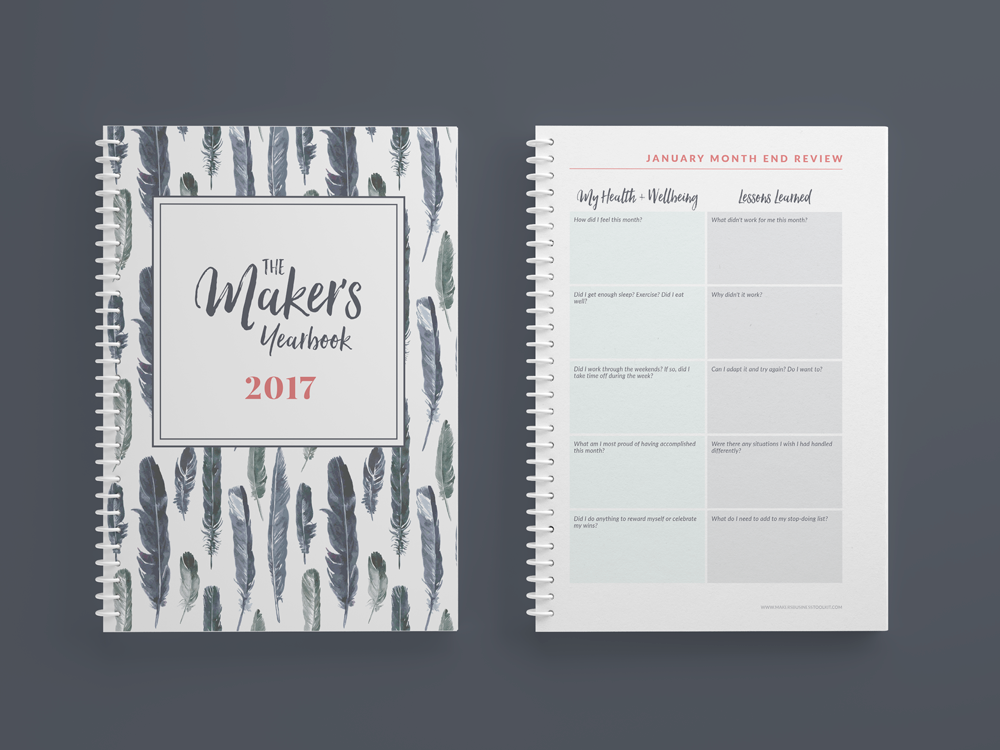 A 2017 Planner & Goal Setting Workbook for Artists, Crafters & Designer-Makers
Find out more on our sister site The Maker's Business Toolkit
How would it feel to know exactly what you need to do to build a better business in 2017?
How The Maker's Yearbook will help you.
CELEBRATE + LEARN FROM 2016
You've got to look back to know what's holding you back.
Look at what went well and what didn't.
Look at where you got it right and where you got off track.
Look at how many customers you have and how much money you made.
Celebrate another spin around the sun and gather the lessons from 2016.
Set out your business vision for 2017.
Dream big and then plan it out.
Your money, your marketing, your creativity, your health and happiness.
What do you want and what do you need to do to get it?
Plan out an entire year of blog posts and email marketing campaigns
MONTHLY REVIEW + ACTION PLAN
Stay on track every month.
Review what's working and what's not working.
Look at how your products are performing and how much profit you're making.
Record the number of customers you're added and what you've learned about them.
Recognise how far you've come, learn what you can apply going forward & decide what you don't want to do any more.
If it doesn't have a deadline, it's a wish not a goal.
Weekly and Monthly Spreads
Space for your to-do list & your appointments
Write out your goals every week to stay focused.
Reminders to do something just for you every week.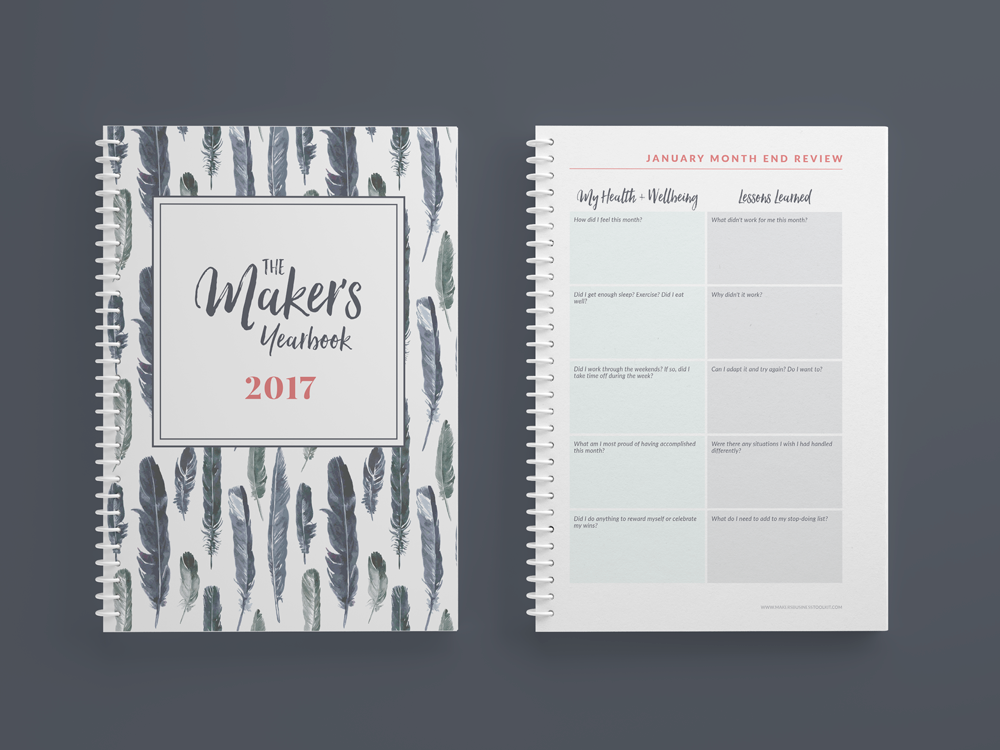 A 200 page goal setting & productivity workbook and 2017 planner designed especially for Artists, Crafters & Designer-Makers
A comprehensive review of 2016 so you can get clear on everything you learned and everything that challenged you.
Goal setting worksheets for 2017
A monthly review that focuses on your sales, your customers & your wellbeing.
A monthly action plan that keeps you focused on the most important things.
A full 2017 planner with monthly and weekly spreads.
12 monthly challenges, delivered via a private Facebook group, to give you support and accountability
Choice of digital download or printed version in two sizes.
CHALLENGE YOURSELF IN 2017
There will be extra support and an opportunity to meet other makers in our Maker's Yearbook Support Group on Facebook.
This is a private community for us to help each other and work together to make 2017 a success.
Each month I'll set you a different five day challenge, which will include video trainings and a set of challenge tasks that will help you to break the job down into small pieces so that you can fit it in and start benefitting from the results.
We'll cover the things that are important but can often get pushed to the bottom of your to-do list.
You can join in live if you want. You can sit back and observe if you want. You can cheer on your fellow makers (and I hope that you will!)
But the most important thing is that together we will make progress on some of those important business fundamentals that can fall through the cracks when business (and life) gets busy.
JANUARY:
Conquering Overwhelm
FEBRUARY:
Approaching potential new stockists for your work
MARCH:
Planning your Christmas line or your new products for 2017
APRIL:
Totally non-scary Facebook Advertising.
MAY:
Email Marketing Basics.
JUNE:
Pitching your Christmas designs to your favourite magazines.
JULY:
Pitching your Christmas designs to new & existing stockists.
AUGUST:
Tidy up and refresh you online stores & marketplaces
SEPTEMBER:
Running promotions on Facebook.
OCTOBER:
Your Festive Season Personal Care Plan.
NOVEMBER:
Revisit your Terms & Conditions.
DECEMBER:
Building Your Brand Map.
You'll also get monthly emails (if you want them) to remind you to do your month end review and fill in your action plan.
Perfect for you if you've ever filled in your planner, then stuck it in a drawer and forgotten all about it.
I won't let you do that!